How Oprah's gift list became an essential part of the holiday season.
Once in a while, it's possible to fall completely out of time. Minutes seem to slow down, each one counting for something. Whatever you happen to be engaged in transfixes your whole attention, and the rest of the world's crushing progress doesn't matter, however briefly.
In 2017, I experienced this phenomenon at a café in Brooklyn. I was in New York visiting my friend Catherine, and we settled at a table in the courtyard, where it wasn't too cold despite the fact that it was November. Then, she did something amazing: She pulled up a Vogue profile of Oprah, and she read me the entire piece aloud.
Listening to someone read an article they think you will enjoy is a rare gift and an act of love. But in hindsight, the timing—the fact that it was November—feels important, too. Over the past two decades, Oprah has become part of the holiday season's rhythm. Her list of favorite things is eclectic and idiosyncratic, ranging from indie to corporate, affordable to extravagant. Even though her show hasn't aired since 2011, the media cycle still spins Oprah's favorite things through a dozen different permutations, from curated lists critiquing her list to tortured thinkpieces about whether the list is benign or somehow creepingly evil.
It feels appropriate to dedicate this newsletter, which has always been about things, to Oprah's favorite things. Here we go!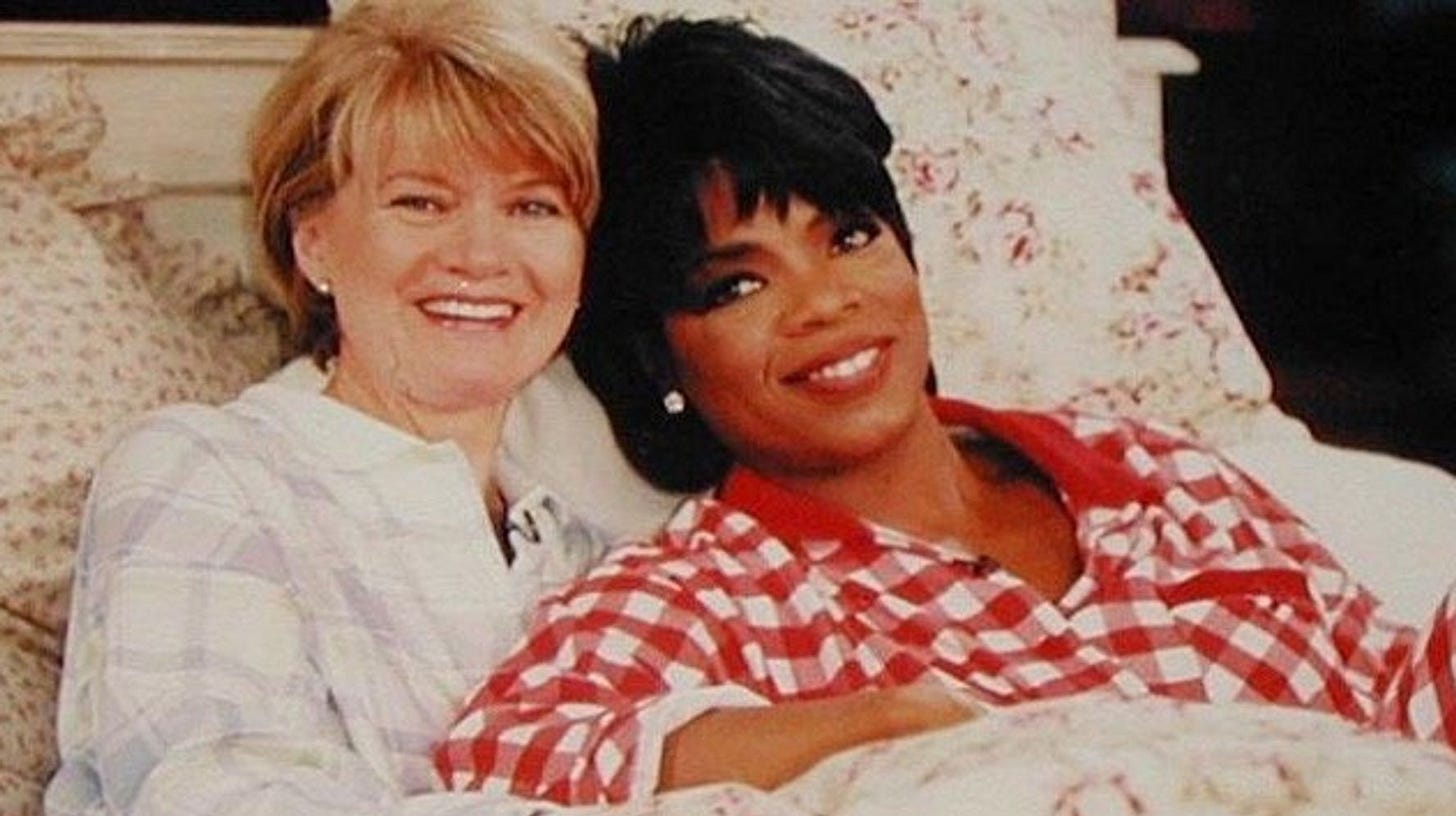 Oprah's favorite things officially began with an episode that aired on November 27, 1996. But before that, the idea started with a pair of Karen Neuburger pajamas. Oprah loved these pajamas, and after running out of friends and family members to gift them to, she wanted to do something more. Conveniently, she had a television studio audience on hand. Giving your audience your favorite pajamas is perhaps a bit weird, but giving them an hour-long gift-giving blowout? That's good TV.
As of 2015, Oprah's cumulative 714 favorite things tallied up to a total of $206,000. This year's list offers 79 items, in list and video form. There are two different blankets and five sets of pajamas/loungewear. Scrolling the list, it's impossible not to fantasize about burning a $55 cedar-scented candle while soaking in a bath spiked with $88 bath salts, after which I would eat an Oprah-recommended $68 crumb cake with my bare hands. Because the list is long, your fantasy might differ from mine. Maybe you're drawn to the $79 box of dates, or the $1,999 Flywheel bike or the $25 slippers made from a puff of faux fur.
The high point of this tradition occurred in 2004, when Oprah pointed to members of the audience, gleefully shouting, "You get a car! You get a car! And you get a car!" I'm not sure if we had memes in 2004, but either way, the moment became one.
But here's how it actually played out: Oprah began the segment by having her assistants hand out stacks of tiny boxes tied with red ribbon. She warned her audience that only one of the boxes contained the keys to a new car. The women in the audience eyed each other, each wanting the car but feeling a little guilty that others wouldn't get it. Oprah had her audio technician cue up a drumroll. And when the audience unwrapped their packages, they discovered that every single person there had won.
When Oprah's show concluded in 2011, she viewed it as an opportunity to quit while she was still ahead. She reflected on its ending in the Vogue interview: "I didn't want to be the person chasing a phenomenon. And that is what the Oprah show was. All the right elements came together at the right time. That won't happen again." There would be no moment quite like "You get a car!" again. Why keep trying, when she'd already cracked the formula wide open?
Oprah shifted her focus to building a new kind of digital media empire, a shift that was reflected in her annual list of favorite things, which endured. Instead of giving her favorite things away, Oprah began suggesting that other people buy them—preferably with Amazon affiliate links that drive a tidy profit.
By then, Oprah had become a bonafide influencer, capable of moving 55 million books through her Book Club or 20,000 pairs of slippers through her show. Companies featured on Oprah's list skyrocket to fame, earning instant recognition as iconic brands. In one case, a college student earned $250,000 from selling tasseled keychains featured on Oprah's list. "It single-handedly enabled me to cover my four-year college," Emma Johnson told E!.
That abruptness can be disorienting. Businesses often find out that they're going to be featured shortly before the list drops, leaving little time to prepare inventory. The result is that products are instantly backordered, and staff has to work around the clock to catch up.
Even Neuburger endured a painful fall from success. By 2004, Neuburger's business was thriving and worth an estimated $100 million. But when a large order overwhelmed her existing systems, she signed a rotten contract with an unscrupulous friend. He came away with majority ownership of Neuburger's company, and she eventually got pushed out entirely. Today, an Israeli conglomerate owns the rights to her own name.
Still, the thought I keep returning to is this: It was never about the things. In the Vogue profile, Oprah reflects on things she couldn't have as a child: a bathtub she could relax in, a pet dog that could live indoors and enjoy a comfortable life as her companion. She admitted to overcompensating once she had the money to do so—at one point, she'd adopted a flock of 11 dogs.
But when Oprah pointed out some of her favorite things scattered about her California estate to the Vogue profiler, she talked about items that tell a story of a broader past. These possessions reflect the history that makes her rise to fame so miraculous. She has a complete collection of first-edition Pulitzer Prize-winning books; a tattered piece of parchment from a slave auction; drawings by Nelson Mandela. In the privacy of her home, Oprah's favorite things reflect her personal history and the country's.
Oprah's list of favorite things centered consumption, but that's not what infused the special with its unique sense of joy. When it still ran as an hour-long special on her show, Oprah's favorite things list was about the unexpected, unearned, over-the-top abundance; the sense that one day you might walk into an auditorium and receive soft pajamas and a new car. When I browse Oprah's favorite things online, the pleasure comes from the idea that I might receive things that feel useless and indulgent, from people who love me. The satisfaction comes from imagining that someday, however unlikely, I might have enough money to buy someone a $200 machine that makes coffee or fresh pasta or panini sandwiches, just because.
It doesn't matter if these scenarios ever come to pass; the happy, window-shopping-induced chemicals still ping through my brain. Maybe it's the natural endpoint of a capitalist economy that insists things = happiness. Or maybe it's the shadow of Oprah herself, a woman who has so thoroughly mastered the systems that compel people to buy things, and who has used these same systems to persuade people to pick up Toni Morrison books en masse.
Either way, the thought resurfaces, a persistent refrain: It was never about the things. In this newsletter, I've tried to infuse ordinary things with the personalities who created them, the people who found them useful and how they surface in modern life. Regardless of whether I've accomplished that, I've enjoyed trying.
That's all for now!
This concludes Scavenger, a three-year exercise in writing about material culture! I'm filing two new stories this week, wrapping up some client work and then signing off for the holidays. It's been a busy, eventful year, and I personally am very tired! I hope you all get to enjoy some time off as well.
I wish you all the best for the new year and the new decade; please don't be afraid to reach out and say hi, any time! It may take me a little while to reply (my inbox is currently frightening), but I love hearing from you.
And sometime in the future, when I have some new stories out, I'll pop up again with some new iteration of this newsletter, so keep an eye out for that, too.